Invisible Treatment
Nobody will see it
Comfortable and removable aligners
Virtually invisible, without carrying equipment
They go completely unnoticed
Innovative treatment with lasting results
The most innovative orthodontic
Invisalign, the invisible orthodontics.
Want a perfect mouth but nobody to notice that you're wearing braces? The invisible braces have come, Invisalign for those who do not wish to carry fixtures that disfigure the mouth.
Advantages of Invisalign invisible braces

Predictable, since the whole process is planned in advance.

Removable, can be removed for eating, drinking, brushing or flossing.
Individual custom-made aligners.
Comfortable, no irritation.
Effective, improved smile perceived from the start.

Transparent, you do not notice you're wearing.
How does Invisalign work?
Invisalign is a recognized product that straightens teeth using braces or transparent aligners. They are practically invisible and removable. Are custom made to fit perfectly to the teeth, ensuring greater comfort.
These aligners will change every two weeks, so the teeth will move gradually until the final position.
With Invisalign invisible braces the results are excellent and durable.
Invisalign is an orthodontic product very comfortable to wear because it adapts to your teeth and that is removable, so you can transform your smile without interfering with your daily life
There are currently over 10,000 dentists who endorse and recommend Invisalign as an innovative orthodontic treatment orthodontic problems.
Price of Invisalign invisible braces
Improve your smile goes beyond a cosmetic issue. Involves improving the functioning of the mouth to chew properly. In addition, the wearing properly aligned teeth helps them feel more secure.
The final price of treatment with Invisalign invisible braces always depends on each case varies depending on the complexity of your dental problem and duration of treatment necessary.
Anyway, in Dentisalut know that price is an important factor so if you request a free online quote you receive an accurate quote without variables it more expensive. In our dental clinics in Barcelona will always offer affordable prices to facilitate access to treatment with Invisalign invisible braces. We also offer different payment methods, such as financing. Call us at Tel. 93 408 51 97 (Nou Barris) or 93 315 85 57 (Sants) to reserve time.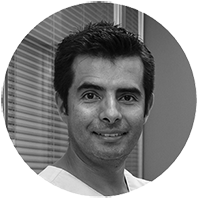 Dr Jorge Alberto Rondon Cortes
Orthodontics, Invisalign certified
Do you need more information?
Contact us now with no obligation.
Also, your first visit is free.