Teeth whitening
Recovers white in your teeth
Recovers the original color of your teeth
Get that white you desire so much
Increases your self-esteem and confidence
Lose the fear and smile again
Simple and completely painless techniques
You won't feel any pain during the treatment
What is tooth whitening?
Teeth whitening is to reduce tooth shades to make it look lighter.
To achieve this result we have 2 techniques: outpatient and clinic.
If you want more information on teeth whitening ask for your first free medical visit online without compromise. You can also call us at 93 408 51 97 (Nou Barris) or 93 315 85 57 (Sants).
Teeth whitening techniques
At the clinic impressions of the two arches of the patient are taken and a splint is constructed.
At home, at night, the patient inserts the gel in the splint and places it in his mouth for eight hours. When the patient wakes up he should brush his teeth with a paste containing the same bleaching agent and flush out the splint with plenty of water.
The duration of treatment is usually about 14 days, but depends on the sensitivity of the patient's teeth to treatment.
There are different treatments to improve dental aesthetics:
Dental veneers
The perfect solution dental aesthetics for those seeking to improve the appearance of their smile
Dental crowns
Ideal for covering or strengthening teeth that are badly damaged or need to be reinforced.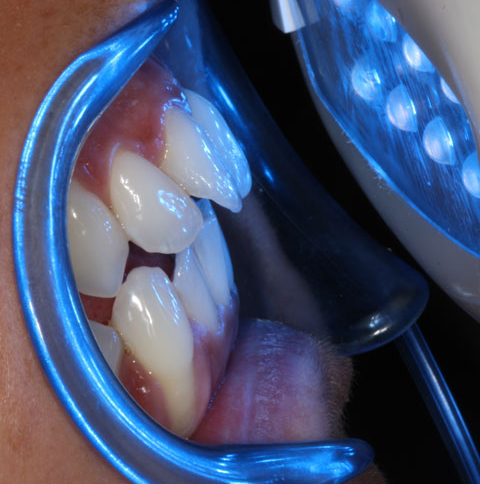 Also called express teeth whitening. It is performed at the clinic and the treatment duration is usually about an hour.
First the teeth are cleaned and dried. Soft tissue retractors are used, and a barrier is placed on the gingival line so that the product does not touch the gum.
The gel is placed and activated by halogen light or LED lamp. It is left about 30-60 minutes, if needed, is renewed.
After the whitening, teeth is washed and fluoride is applied so that there is less sensitivity.
Dra Carlota Martín
Specialized in Oral Surgery and Dental Rehabilitation
Need more information?
Contact us now without any commitment.
Furthermore, your first visit is free of charge.